AUG 17, 2013
CONSISTANT HANDLING NOT TRAINING
I HOPE THIS PHOTO SHOWS UP IN THE EMAILS
DEBBIE-- WHO NEVER FED THEM BEFORE- WAS SHOCKED TO HAVE THIS HAPPEN....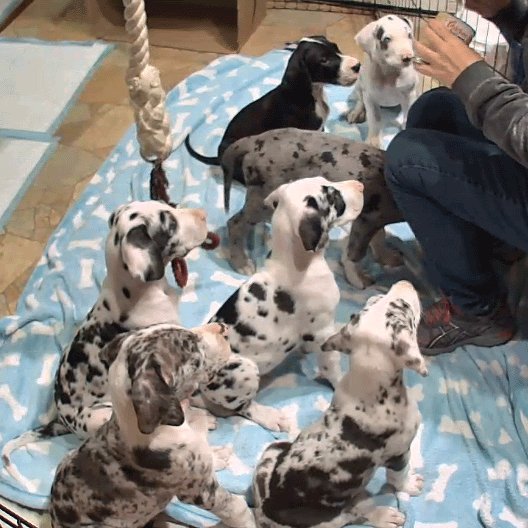 AND IT IS NOT UNUSUAL--- THESE PUPS ARE THINKING-- NOT TRAINED.
IT IS A BEAUTIFUL PICTURE OF OUR "TRAINING" METHODS.
IT IS ALSO WHY WE DO NOU "USE" PUPPY RAISERS.. I HAVE TO GO BACK TO PLAYING MY OLD FIDDLE... DANES ARE BORN TRAINED-- JUST DON'T WRECK THEM.
THE BEST ILLUSTRAQTION OF THIS CONCEPT IS THE OLD MOVIE
MIRACLE WORKER- WITH PATTY DUKE---
YOU PEOPLE WHO HAVE BEEN AROUND FOR A WHLE HAVE HEARD THIS BEFORE... SORRY..
MIRACLE WORKER IS THE STORY OF HELEN KELLER AS A VERY YOUNG- NON COMMUNACATIVE CHILD-- ND TEH FRUSTRATIONS RELATED TO THAT BLIND/DEAF SITUATION...
SHE IS A VIOLENT, SMART TYPE NASTY FURNATURE THROWING BITING BRAT AS HER TEACHER TRIES TO BREAK THRU AND TEACH HER SIGN LANGUAGE.
ALL OF A SUDDEN SHE REALIZES THE HAND MOVEMENTS MEAN "WATER" - AND SHE IS OFF AND RUNNING .
NOW IF HER TEACHER HAD MISSED HELEN'S RECOGNIZING THE WATER--- HELEN'S LIFE MIGHT HAVE BEEN MUCH DIFFERENT
AND THAT IS WHERE WE ARE AS SERVICE DOG PROJECT.-
WE HAE TO HAVE ENOUGH ... CORRECT... HELP/ HANDLERS TO BE SURE WE DON'T MISS THE OPPORTUNITY.
THERE ARE A COUPLE TEEN AGE DOGS IN THE BARN WHO NEED A REFRESHER COURSE BIG TIME. BUT THE CONCEPT IS THERE.
THIS WAY YOU END UP WITH A BAILEY... WHO IS BASICALLY UNTRAINED, BUT JUST LISTENS TO YOU WHEN YOU SPEAK TO HER.
IT IS A WHOLE NEW WORLD
AND IT TAKES CONSISTANT HANDLING
**************
NOW FOR THE REST OF THE STORY...
YOU WILL SEE ME TODAY STRUGGLE TO GET READY FOR A PHOTO SHOOT WITH WILLIAM-ON MONDAY-- FOR NEXT YEAR'S CALENDAR..
THE CONCEPT IS TO PULL JANINE ONHER ROLLER BLADES WITH A ? "BRACE" OF 3 DANES --- MAYBE MORE --- RUNNING FULL TILT.
TO THAQT END I WILL BE TRYING TO GET SOME TO WALK /TROT/GALLOP TOGETHER-- AND I WILL START IN THE PARKING LOT W HERE THE PUPPY HILL CAMERA CAN SEE US
COUPLE PROBLEMS FIRST-- I OWN A BUNCH OF OLD HORSE HALTERS WHICH MAKE GREAT PULLING HARNESSES-- SO I MUST LOCATE THOSE.-- AND I HAVE SOM OLD LEATHER REINS FROM MY DONKEY DAYS WHICH WOULD BE NICE TRACES.
THANKS TO THE CAMERA PEOPLE, CRITICAL TO THE ENTIRE OPERATION ---ARE ALL THOSE 4"BRASS DOUBLE ENDED SNAPS WHICH I CAN USE TO TIE THEM TOGETHER.
BY SUNDAY STEW WE WILL EITHER BE PRACTICING OR MOPPING UP BLOOD FROM THE WORLDS BIGGEST DOG FIGHT.
? 3 HARLS? CHAOS, OPAL AND BENTLEY???
? OREO COOKIE ? NOEL BENTLEY + SOMEBODY??
STAY TUNED.... IT IS A GREAT IDEA...
**********
WE HAVE ALOT OF THOSE IN THE LAST FEW DAYS
************